What is happening in Ukraine today is a moral upheaval – both for the world, furthermore, for the Ukrainians themselves, - His Beatitude Sviatoslav
Tuesday, 13 September 2022, 19:36
In the early beginning of the war, on March 27, 2022, when Ukraine surprised the world with its incredible strength of spirit in resisting the Russian occupiers, the Father and Head of the UGCC His Beatitude Sviatoslav said in his daily address: "A new world will emerge through Ukraine, where evil will be defeated." Ukraine is the point from which a new world will emerge. A reboot of the world is in the air, and world politicians are already repeating this thesis in their way – Ukraine will renew Europe. But – is the world possible without evil, which is a part of it? For Ukraine today, this evil is personified, it is Russia, but in the world, there are other totalitarian regimes and other manifestations of evil. Will this change Ukraine and its rank?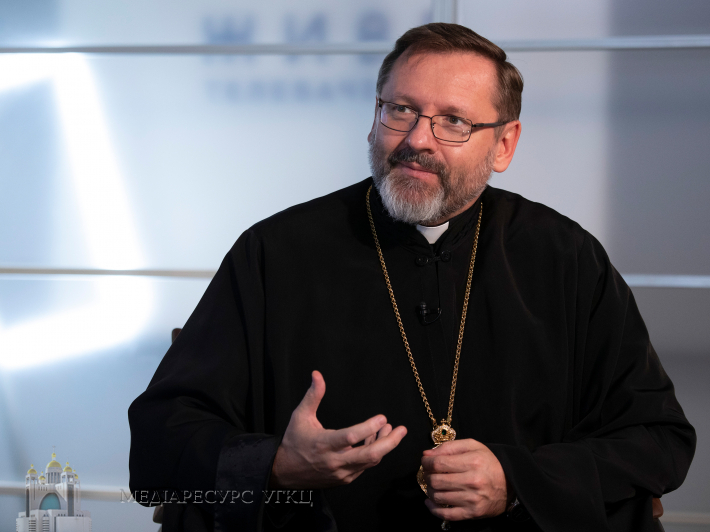 Father and Head of the UGCC, His Holiness Sviatoslav, speaks about this in the premiere program "Interview Time" on the radio "Culture" with Vadym Karpiak.
"What is happening in Ukraine today already has global consequences. It is not only about certain military, economic, geopolitical, or other matters but also about human life's profound moral foundations. Because when we talk about good and evil, we talk about moral principles without which a person cannot exist – His Beatitude Sviatoslav explains his thesis. – What is happening in Ukraine today? Ukrainians have shown the world that there is something and someone worth laying down even one's life. That is, some objective truths - or values ​​- can be the meaning of life. And if it is taken away from you, life loses its meaning."
The Head of the UGCC believes that what is currently happening in the world is a manifestation of the post-truth era, blurring the concepts of good and evil, which is the environment and substrate for Russian propaganda. Today, Ukraine is breaking this crooked mirror – its resistance to evil, its position, and its struggle. And this is, to some extent, a turning point for the whole world – a revolution of values, a moral challenge.
The Primate noted that we are not fully aware of the context in which the rest of the world still lives. The world today lives in a post-truth context. That is why Russian propaganda so easily captures people's minds and hearts; if there is no objective truth, it means that there is no objective good and objective evil.
"There is an objective truth – the Primate continues. – Maybe someone does not accept it or is afraid of it. But there is something worth giving life for. It was once called "higher values" in traditional philosophy – there is something that cannot be assessed only by the categories of consumer society. We see today that evil is not some abstract truth. Evil kills. But, on the other hand, we are today de facto provoking the world to have the courage to say it with our moral strength and position of "no to evil!" Because post-truth confuses the concepts of good and evil, and modern man is disoriented, he does not know where to go. Having no moral guidelines, he thinks that he is moving forward, but, naturally, he profoundly degrades."
Speaking about "the world without evil", His Beatitude Sviatoslav meant a moral upheaval, in the Ukrainians themselves, who today fight for truth and freedom, choose their future.
"We build our earthly life as the image and likeness of the Kingdom of Heaven. Christians are those who spread the Kingdom of Heaven here on earth. When we live in the truth, we live, trying to do good and avoid evil every day, then we build that space, that world, where there is less evil."
"Today we are beginning to understand who should not have been elected to power. We begin to understand how our society had to be built differently and how we had to resist specific patterns of colonial or post-colonial society because this war that Russia is waging against Ukraine is a typical colonial war. And I would like us not to lose this painful experience of war as a confident new opportunity to learn, perhaps even from our mistakes. And that's why today we must think about what Ukraine will be like when we win."
The UGCC Department for Information
PUBLICATIONS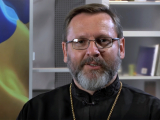 A vast cemetery, a mass burial, was found near the city of Izyum, in which more than 400 innocently killed and tortured people have already been...