War denies the paramount human right – to life, - the Head of the UGCC at the meeting of the VRCiRO with the ombudsman
Tuesday, 20 September 2022, 22:10
On September 20, representatives of the All-Ukrainian Council of Churches and Religious Organizations met with the Commissioner for Human Rights of the Verkhovna Rada of Ukraine, Dmytro Lubinets, in the office of the Ombudsman of Ukraine. His Beatitude Sviatoslav was present at the meeting from the UGCC.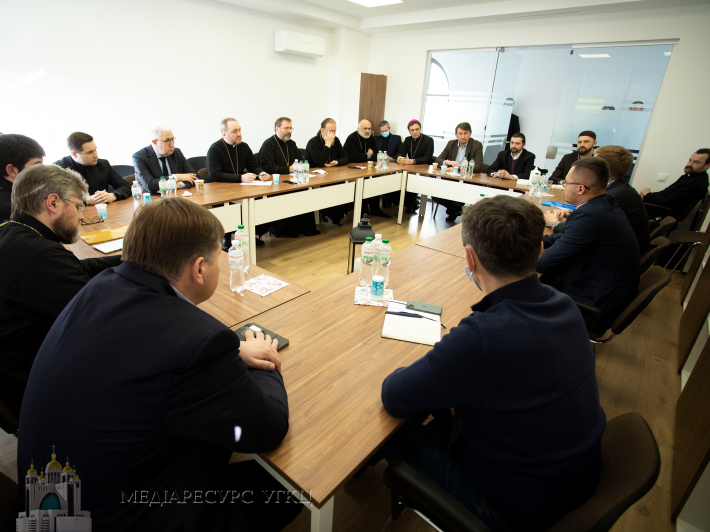 The participants of the meeting discussed the humanitarian problems related to the Russian aggression against Ukraine, in particular, the captivity of thousands of defenders of Ukraine and civilians, the establishment of permanent dialogue and cooperation in their resolution, as well as the solution to other imperative social issues.
His Beatitude Sviatoslav noted in his speech that except for the Ten Commandments, which guarantee human rights and freedoms, human rights are also protected by other laws, both state and international. "Today, we feel responsible for guaranteeing these rights thanks to cooperation with churches and religious organizations," he added.
The Head of the UGCC thanked Dmytro Lubinets for his testimony. "I was closely following how you visited the de-occupied territories of the Kharkiv region. In particular, I listened to your speeches in the city of Izium, where you were during the exhumation of our innocently murdered brothers and sisters. We were all moved by the "Our Father" prayer scratched on the wall in the Russian torture chamber. We can only imagine what those people endured, regardless of which Church they went to or which language they spoke. These are our brothers and sisters, and our hearts truly ache for them."
The Primate noted that from the very beginning of the war, communities and parishes of all Churches had found themselves on two front lines – humanitarian and informational. Separately, His Beatitude Sviatoslav mentioned the information front, indicating how different countries accept things happening in Ukraine, expressing some distrust. Then, everyone listens to what the Church will say regarding the difference between Russian propaganda and information from the Ukrainian site, which can be viewed as Ukrainian propaganda.
His Beatitude Sviatoslav thanked the office of the Ombudsman of Ukraine for the truthful information. "We immediately translate it into other languages ​​and inform the world's public. Now there is excellent solidarity with Ukraine in the world. However, this solidarity must be maintained – it is the key to our victory."
The UGCC Department for Information
PUBLICATIONS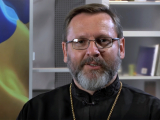 A vast cemetery, a mass burial, was found near the city of Izyum, in which more than 400 innocently killed and tortured people have already been...
MEDIA