The edition that has been published on occasion of the fourth anniversary of the enthronement of the Head of the UGCC, will be edited in Czech language
Tuesday, 10 November 2015, 12:59
A new edition "On a Pilgrimage to the Dignity and Freedom: Pastoral letter of His Beatitude Sviatoslav to faithful of the UGCC and all people of a good will" that has been recently published on occasion of the fourth of an enthronement of the Head of the UGCC, will be edited in Czech language.
The author of the book's translation is a famous translator from Ukrainian language Yirgi Cherenka. Moreover, Mr. Yirgi is a professional in translating Ukrainian poetry. In the same time he is a Catholic with a good theological education. The book will be printing by CDK publishing house from Brno (Czech Republic). Such initiative was managed to be taken by a Czech nonconformist Yirgi Novotny.
We remind that Ukrainian edition of the book contains sermons, speeches, interviews, letters, addresses and other documents of the Father and Head of the UGCC, delivered during the first year of Ukrainian nation's fighting for their dignity and freedom (from December of 2013 till December of 2014).
The book consists of four chapters: "The proclamation of a peaceful way of fighting for a right to have a European future", "A vote on protecting the compatriots, suffered from a criminal government", "A position in time of Russian intervention in South and East Ukraine" and "Pastoral care of Ukrainians in the armed fight on the east ground of our Motherland". Each of them contains speeches, sermons, petitions, letters to the highly-ranked officials, appeals in accord with chapters of the same name, etc. This edition will be helpful for priests, monks, laity, scientists and all interested ones.
The UGCC Department of Information
PUBLICATIONS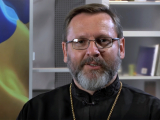 A vast cemetery, a mass burial, was found near the city of Izyum, in which more than 400 innocently killed and tortured people have already been...
MEDIA