"A religious vocation is not something a person creates or chooses, but it is a person's answer to God's calling," Bishop Bohdan Dziurakh
Wednesday, 24 October 2012, 16:00
Every epoch has its own particular challenges and difficulties; therefore, it is natural that today a young person who feels a call to a religious life may encumber obstacles on her/his road. Yet the voice of God -- during any time and in all circumstances -- sounds and calls one to follow.
These were the comments for the Department of Information by Bishop Bohdan (Dziurakh), Secretary of UGCC Synod of Bishops, Administrator of the Patriarchal Curia, in discussing the importance of the scholarly conference "Vocations to a religious life in UGCC today: reality and perspectives," held at the Lviv Spiritual Seminary of the Holy Spirit on October 19-20.
As Bishop Bohdan noted, in addition to hearing the voice of God, a person can also hear other voices – "not God's" --   that will try to destroy God's plan for this person.  "In today's world there are many voices which propose a different style of life to a person, in counterbalance to that stated in the Gospel and by Jesus Christ.  The culture of consumerism existing in the world that is spreading in our society; it is within this context that appeals and inducements towards expansion of material well-being, often at the cost of renouncing of evangelical ideals:  careerism, love of power, love of money – all these are serious challenges for a contemporary young person.  Also a problem may be the lack of understanding from the closest environment – friends, family, etc.  Thus, one who has been granted God's calling , should accept it as an expression of particular love and grace of God towards one and treasure this gift because it harbors the source of peace and permanent happiness," explained the UGCC  Synod of Bishops Secretary.
In answering the question of how a young person can recognize the call to a religious vocation, Bishop Bohdan stated that this can be done through the experience of harmony between inner inducements and external circumstances, which form themselves in such a manner as to make God's plan be realized in the person's life.  Among the inner elements, according to the Bishop, is understood the voice of God, which speaks from the innermost depth of the human soul, encouraging one to follow Christ through choosing a monastic life.  As a rule, these contemplations create in the person feelings of happiness, peace, hope, a desire to become better. Simultaneously, external circumstances seem to coincide in such a manner that they almost seem to bring the person to the desired step.  This can be a meeting with a person who lives a religious life, participation in  a pilgrimage, reading a book, conversation with a priest, some event which touches the interested person and makes God's inner voice all the more clear and comprehensible.  It is this combination of inner desires and external "signs" that creates a resonance which results in the acceptance of the decision to follow Christ – poor, obedient and pure.
"Yet, each vocation is sacramental, a mystery between God and the person.  Thus, there are as many stories of vocations as there are individuals who have followed  the call to a religious vocation.  The main thing is to remember that the calling to a religious life is not something which we ourselves create or choose, but it is an answer to God's calling.  Therefore, it is most important not to get sidetracked by the difficulties and obstacles that one may meet on the way.  It is important to get to know God in your life and to hear His voice," noted Bishop Bohdan (Dziurakh), Administrator, UGCC Patriarchal Curia.
UGCC Department of Information
PUBLICATIONS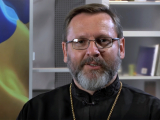 A vast cemetery, a mass burial, was found near the city of Izyum, in which more than 400 innocently killed and tortured people have already been...
MEDIA