" Ukrainian Diaspora is a bridge not only to positive but also to negative ? " - Bishop Boris (Gudziak )
Friday, 13 September 2013, 19:46
On the 8th of September faithful parishioners of Ukrainian Greek Catholic parishes of Belgium made ​​a joint pilgrimage to the "Mother of the Poor " in the village of Bath near Liege. There's a legend, that 80 years ago Our Lady appeared in front of a 12 -year-old girl from a poor large family . In 1988 in Bath a memorial cross and a plate were established in honour of Millennium baptism of Rus- Ukraine .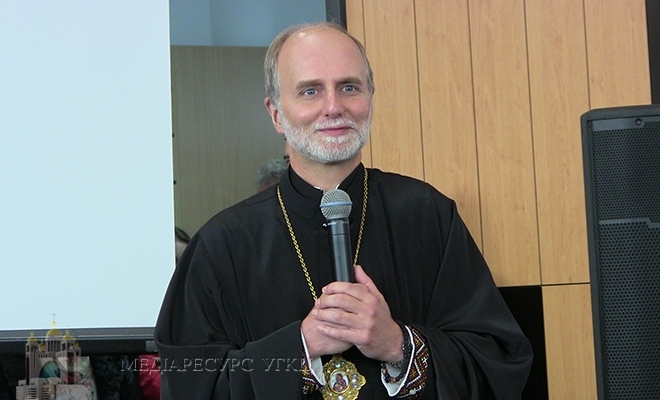 This year's pilgrimage , which was also attended by Ukrainian centers of Germany and the Netherlands , was led by Eparch of the Ukrainians of France, Benelux and Switzerland Bishop Boris ( Gudziak ). He answered a few questions of radio " Freedom ".
- Each pilgrimage is an opportunity for us to reflect on our spiritual lives, reconciliation, on what weighs heavily on us, what humbles and raises us. Our people , who are now celebrating the 1025th anniversary of the Baptism , has a great tradition , but there are many vices and problems. The sons of Prince Vladimir fought among themselves Sviatopolk killed Boris and Gleb. They became the protomartyrs thousands of years before Martin Luther King. They displayed martyrdoms like Christ, they took martyrdoms not to revenge. And this is a pilgrimage for us to forgive each other , because God forgave us , and He does so because he sacrificed himself to us. We, Ukrainians, must forgive each other , we must cooperate , we must be united .
- The Ukrainian people are known to be divided by different features: political, religious and linguistic. What is the way out of this situation? How to unite ?
- Solution is unlikely to be magic . It will not be a lottery or " Nescafe " - powder and boiling water and you have some pleasure. The fact is that if I am personally willing to put up with my neighbor, if I'm willing to live with my parents, children, male or female in peace. And the world - it's like embroidery. It consists of individual crosses . Its injuries should be treated by hard spiritual work . These severe injuries are caused by violence, totalitarianism , ideology , which destroyed human dignity. I think we have already gone some way . We have already get out of the prison of nations , but as two generations of the biblical people of Israel went so we will walk two generations to greater tranquility , peace and harmony. Everyone should think: where can I find and create peace in my life? Can I relieve my heart from whimpering , complaints and execration ? Can I stop judging and slander ?
- What is the role of the Ukrainian diaspora in the unification process ?
- Diaspora , especially the young one, has a special opportunity. It can look at the Ukrainian nation from the point of view of comparing it to the examples of other nations. We have a lot of positives , we have a sense of holiness, there is such liturgical tradition and explicit ( clear ) spirituality. But other nations have systems are healthy processes that ensure peace of life. I think looking closely at it we can learn. And our diaspora can be a bridge for us to bring some positive things. God grant that it will not become a bridge of negativity , because Europe is in a deep demographic crisis. people do not want children because children bring a married couple some discomfort and disadvantage , become a burden. People refuses the thing that gives life . So after some 25-50 years we can see a very different Europe - Europe of the Arabs or Chinese . It is a statement of fact. God loves all people of all nations and races. But all of us need to realize that life and vitality is a hard work, exploit, faithful marriage, procreation, the work of raising children . Some people are looking at Europe and believe that Europeans are light-minded. They are attractive , they are relatively rich, but they forget the basic things: family love, procreation and up-bringing children , and the future is impossible without all these.
www.radiosvoboda.org
PUBLICATIONS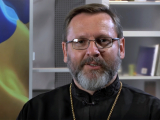 A vast cemetery, a mass burial, was found near the city of Izyum, in which more than 400 innocently killed and tortured people have already been...
MEDIA