Warsaw will host an international conference within the scope of the project "Reconciliation of Europe"
ANNOUNCEMENTWednesday, 25 September 2013, 15:09
From 2 to 4 October 2013 Warsaw europium center of Orthodox Culture will host an international conference " Reconciliation in Central and Eastern Europe. New Challenges " ,which is held within the scope of the project " Reconciliation in Europe. The target of the Church in Ukraine , Belarus, Poland and Germany. "
The theme of the conference will be linked with reconciliation in the central and eastern parts of Europe . An important impetus for the organization of the  conference was recently published documents concerning Polish- Ukrainian relations,  first and foremost " Joint Declaration on the occasion of the 70th Anniversary of the Volyn tragedy between the Roman Catholic and Greek Catholic churches in Poland and Ukraine ."
Numerous publications and statements in the media - both in Poland and in Ukraine - illustrate the diversity of opinions and interpretations of the historical events. Therefore, during the conference historians and experts will present the roots of the problem of the Polish- Ukrainian reconciliation and the effects  of the already achieved results from the point of view of the  Polish and Ukrainian historical perspectives. They also try to answer the basic questions: what is the Polish- Ukrainian problem , what roots it has, what  is found out and agreed between  Poland and Ukraine , at what  stage in the process of reconciliation we are as nations  , what is a high time to be resolved .
Besides  historians and experts from Ukraine , the representatives of the Ukrainian Greek Catholic Church, the Ukrainian Orthodox Church, the Roman Catholic Church and the German Evangelical Lutheran Church of Ukraine will speak during the conference.
 UGCC Commission ofPromoting Christian Unity 
PUBLICATIONS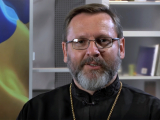 A vast cemetery, a mass burial, was found near the city of Izyum, in which more than 400 innocently killed and tortured people have already been...
MEDIA