Metropolitan Stefan Soroka to Lead Prayer and Present Address at Philadelphia, Pa.
ANNOUNCEMENTWednesday, 24 August 2016, 14:08
The Ukrainian-American community of the Greater Philadelphia area will celebrate the 25th Anniversary of Ukraine's independence on Wednesday, August 24, beginning at 12:45 PM, in an outdoor ceremony on the North Broad Street area of Philadelphia City Hall.

The Most Reverend Metropolitan Archbishop Stefan Soroka, of the Ukrainian Catholic Archeparchy of Philadelphia will present the closing address, praying for Ukraine and all who lost their lives defending Ukrainian independence and sovereignty.
Philadelphia Mayor Jim Kenney will read and present the official city Ukrainian Independence Day proclamation. He will also be presented with the traditional Ukrainian bread and salt greeting of hospitality.
The Ukrainian Ambassador to the United States, the Honorable Valeriy Chaly will deliver an address after being welcomed to the City of Brotherly Love by Mayor Kenney.
During the raising of the Ukrainian flag, Yuliya Stupen will sing the Ukrainian National Anthem.
United States Senator Pat Toomey and Congressmen Mike Fitzpatrick and Brendan Boyle will also extend their greetings to the audience.
After Metropolitan Soroka's remarks, children will release helium-filled balloons marking the celebraton.
Dr. Zenia Chernyk, president of the Ukrainian Federation of America, which is organizing the event, will present words of welcome, after being introduced by Roman Petyk, who will serve as Master of Ceremonies for the program.
All are welcome and invited to attend the outdoor program. Wear your best vyshyvanka or your national dress, bring your children with you, and celebrate Ukrainian Independence at City Hall in Philadelphia.
To inform Philadelphians of Ukrainian Independence Day, PECO crown lights on the top of its center city building will display HAPPY B-DAY, UKRAINE! on August 23, 24, 25.
Additionally, during the month of August, an art exhibit "With LOVE from Ukraine, Sharing our Heritage With Philadelphia" will be shown.
Rev. John M. Field
PUBLICATIONS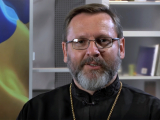 A vast cemetery, a mass burial, was found near the city of Izyum, in which more than 400 innocently killed and tortured people have already been...
MEDIA