We appreciate the efforts to recognize the united Orthodox Church, Head of the UGCC to the US Ambassador in Ukraine
Friday, 20 April 2018, 14:45
On April, 17, 2018, at the residence of the Head of the UGCC near the Patriarchal Cathedral of the Resurrection in Kyiv, took place a meeting between His Beatitude Sviatoslav, the Father and Head of the UGCC, and the Extraordinary and Plenipotentiary Ambassador of U.S. to Ukraine Mari Jovanovich at her request. In the meeting also took place Rebecca Farmer, a diplomat of the Political Department of the U.S. Embassy in Ukraine.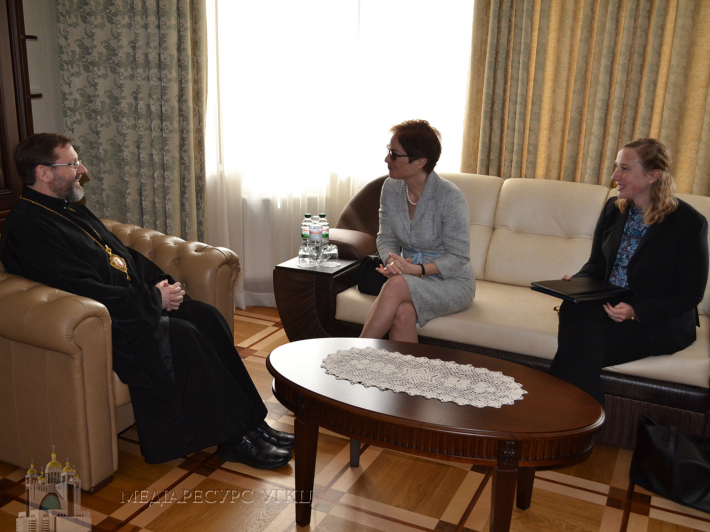 During the meeting, the sides discussed the religious situation in Ukraine and inter-confessional peace. The Head of the UGCC told about the role of the All-Ukrainian Council of Churches and Religious Organizations, in which representatives of various denominations and religions work together for the common good of the Ukrainian nation.
His Beatitude Sviatoslav represented the main points of the Еcumenical Concept of the UGCC, and told about the vision of our Church regarding the ways of uniting the Churches of Volodymyr Baptism. "Today, both at the state and political levels, many talk about a single local Church in Ukraine. Here one should take into consideration that only the united Orthodox Church is meant. The UGCC does not participate in this process because we believe that it is the internal affair of the Orthodox Churches," noted the Primate of the UGCC.
At the same time he drew attention to the fact that this process is an important step to overcome the split among the Ukrainian Orthodox believers. "It is also important for destroying church isolation of the Ukrainian Orthodox Church of Kyiv Patriarchate and Ukrainian Autocephalous Orthodox Church in the framework of world Orthodoxy. We hope that in this way it will be possible to heal the wounds of division in the Ukrainian Orthodoxy. In this regard, we are positively evaluating all efforts for the possible recognition of the united Orthodox Church of Ukraine by the Patriarchate of Constantinople," said His Beatitude Sviatoslav.
The Head of the UGCC noted that creating of a single Orthodox Church is, however, only the first step towards the unity of the Churches of Volodymyr Baptism in a single local Kyivan Church. "The next step is the ecumenical dialogue between the UGCC and the united Ukrainian Orthodoxy in the direction of restoring the original unity of this Church," said the Hierarch of the Church.
Another issue that was discussed during the meeting was the role of the Church to counter trafficking in human beings. His Beatitude Sviatoslav spoke about cooperation of the UGCC in this issue with international institutions, as well as about social and legal protection provided to Ukrainian migrant workers by the UGCC parishes abroad.
At the end of the meeting, the parties exchanged memorable gifts. The Head of the UGCC presented a set of Easter eggs to his honored guests.
The UGCC Department for Information
PUBLICATIONS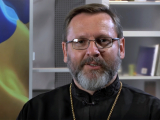 A vast cemetery, a mass burial, was found near the city of Izyum, in which more than 400 innocently killed and tortured people have already been...
MEDIA